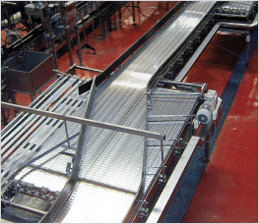 Stainless steel slate band straight chain is classified into mini hinge,
single hinge and double hinge. They are separated depending on the
width of plate. Mini hinge is very light. And double hinge is
appropriate for heavy product transport. Each chain has smooth
surface with hairline treatment, and because high quality, reasonably
priced material is used to maximize the efficiency of working
condition.

스텐레스 스틸 스레이트 밴드 직선 체인은 미니 힌지와 싱글 힌지와 더블힌지로 분류한다. 그것은 플레이트의 폭에 따라 나뉜다. 미니 힌지는 무게감이 없는 제품이다.
더블힌지는 무거운 제품 이송에 적합하다. 각 체인은 헤어라인 처리를 하여 매끄러운 표면을 가지며 고품질 저가의 재료를 사용해 헤어라인 처리 및 고효율의 최고의 작업조건을 마련한다.