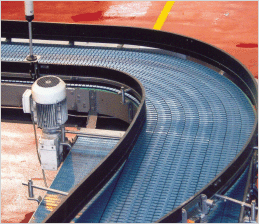 Plastic slate band curve chain is divided into 4 depending on the shape of wings - Bevel flex, stand radius, heavy duty flex and magnetic flex. Bevel flex chain has a wing of 10 degree incline that it prevents itself from deviating. However, if the chain is going into the lower part of conveyor, then it is hung on the corner track. Standard radius chain is known for the easiness to make the track. Heavy duty flex chain is for heavy load and is applicable to wide width product, and each chain is connected with steel pin. Plate is nontoxic acetal
and was approved by the FDA.

플라스틱 스레이트 밴드 커브 체인은 날개 모양에 따라 4가지로 나뉜다. 베벨플랙스, 스탠다드 레디어스, 헤비듀티플랙스, 마그네틱플랙스 이다. 베벨플랙스 체인은 각이 10도 경사 날개를 가져 트랙으로부터의 이탈을 막는다. 그러나 체인이 컨베이어 하부로 돌아 들어갈 때는 코너트랙에 매달린 상태에서 진행된다. 스탠다드 레디어스 체인은트랙 만들기가 매우 간단하기로 잘 알려져 있다. 헤비듀티 플랙스 체인은 중 - 하중용 이며 폭이 넓은 제품에 적용되며, 각 체인은 스텐레스 스틸핀으로 연결된다. 플레이트는 무독성 아세탈이며 FDA에서 인정 받았다.